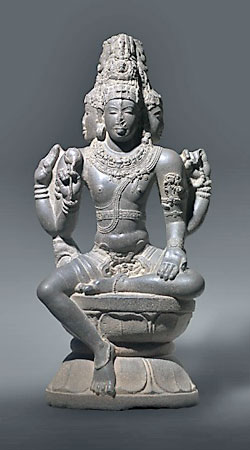 Hindu god Shiva as Brahma
Most scholars believe that the use of prayer beads originated in ancient India with the Hindus. In India, sandstone representations dating from 185 B.C. show people holding prayer beads, and this practice apparently became widespread by the eighth century B.C. The strand of Hindu prayer beads, called a mala, was designed for wear around the neck and consisted of 108 beads for repeating mantras or counting one's breath, a practice later adopted by the Buddhists. (The word mala means "rose" or "garland" in Sanskrit.) The earliest known mala—strung from seeds that still exist—is around 2,000 years old.
The 108 beads represented the cosmos, in which people multiplied the sum of the twelve astrological signs by the nine planets. Hindu malas are usually made of natural materials. Beads made from rudraksha seeds (called "Shiva's eyes") are used by those in the Hindu cult of Shiva, while devotees of Vishnu usually use beads made from the tulsi (sacred basil) plant.
Hinduism » Religious Use of Beads » History of Prayer Beads » A String & A Prayer: How to Make & Use Prayer Beads
Eleanor Wiley and Maggie Oman Shannon (2007) Red Wheel/Weiser, LLC