Oppi Untracht (2008) Thames & Hudson, Inc.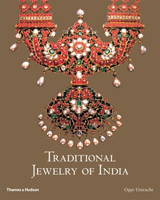 The result of more than thirty-five years of research into every conceivable aspect of the subject, this survey is the first comprehensive presentation of one of the greatest of all the world's jewelry traditions. Its strengths lie not merely in a sumptuous visual display and the documentation of hundreds of pieces but also in the extent to which it shows the intimate relationship between the jewelry and the lives of people of India. Alongside form and technique, the influence of myth, religion, social structure, economics and politics illuminate the context in which jewelry of exquisite beauty and great originality has been created.
More than five thousand years of personal ornament are explored in a story that encompasses every area of this complex country, ranging from urban settings to  isolated ethnic communities. Beginning with Paleolithic body ornaments, Oppi Untracht then identifies the emergence of major traditional forms, such as amulets, rosaries, marriage ornaments, temple jewelry, theatrical jewelry and adornment for animals. Major themes—the goldsmith tradition, the use of gemstones, the design innovations that originated under the Mughals and the cross-cultural influences in jewelry design between India and the West—are also defined and illustrated.
More than 800 illustrations are drawn from sources all over the world. Photographs of individual ornaments are juxtaposed with others showing how pieces are made, who wears them and on what occasions. Numerous line drawings depict traditional design forms and techniques. Complete with a comprehensive bibliography and an invaluable list of comparative vernacular terms for Indian jewelers' tools and materials, this encyclopedic and beautiful volume will be essential for anyone interested in jewelry, ornament or the rich cultural heritage of India.