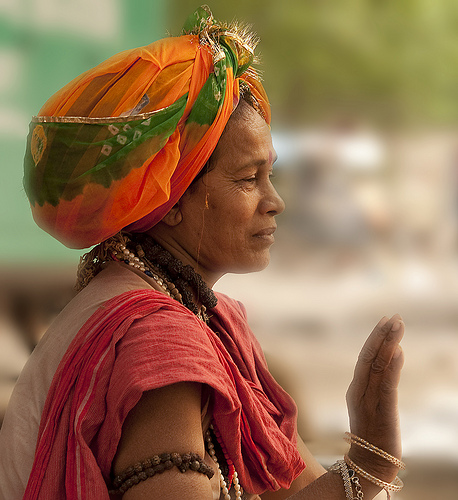 A serene sadhvi (female sadhu) gives her blessing in Northern India. The right hand is raised in the traditional Hindu blessing. (Photo: Brett Davies, 2012)
The use of rosaries in India is widespread among followers of the major religions and by others. The rosary is believed to have been the invention of Brahmanical Hindus (as early as 1500 B.C.), from whom the concept passed to the Buddhists. Around the tenth century A.D., conquering Muslims came into contact with Hindu and Buddhist practices and in turn adopted its use from them. Among Christians, the employment of the rosary (which in English means "a garland of roses"; it's equivalent in most Indic languages is mala, "a garland of flowers") is thought to have begun during the eleventh to thirteenth centuries A.D., when the Crusaders went to the Holy Land in an attempt to recover it from Muslim control. Upon their return to Europe, they brought with them the Muhammadan idea of rosary use.
As in all religions, the rosary functions as a counting device by which the number of prayers recited by a devotee can be noted. In all cases, this practice is considered to be a form of worship that will gain the reciter favor with the Divine.
Though primarily religious in function, a rosary worn as a necklace, as it commonly is in India, becomes a form of devotional jewelry. At the same time, it can also serve a practical purpose as a device for mathematical calculations.
Rosaries of India » Traditional Jewelry of India
Oppi Untracht (2008) Thames & Hudson, Inc.